Beaches Resorts
Beaches Resorts offers 2 locations in Jamaica Negril and Ocho Rios, Both offer the Luxury Included® vacations that Beaches is so well known for.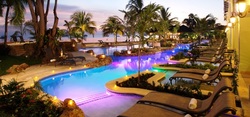 Negril invented "chill" – so get ready to embrace the laid-back spirit at this low-rise resort perched along Jamaica's famed Seven Mile Beach. From the moment you enter the open-air lobby you'll be caught up by fresh ocean breezes and the vibrant colors of the West Indies. Bringing the outside in, this all inclusive resort and spa in Negril, Jamaica is always open to the breathtaking beauty of the tropics.
The vibe here is totally carefree and about spending time with those you love. Spread out over a lushly landscaped 20 acres, Beaches Negril epitomizes paradise with spectacular gardens beside the sea, a sprawling Pirates Island waterpark, and plenty of activities and amenities for the whole family. For those who want a little tranquility and a whole lot of cool, it all begins with a beach vacation at the best all - inclusive resort in Negril.
Seven miles of pure paradise. Negril's Seven-Mile Beach has been voted many times over as one of the best in the world, known for its dramatic sunsets, silky white sands, clear turquoise waters, and spontaneous island spirit.
Hungry? Seven gourmet specialty restaurants tempt everyone's palate with everything from Italian, seafood and Japanese teppanyaki, to a pizzeria and beach grill..
---

Why Choose this resort? If you're looking for the ultimate beach resort in Jamaica with endless choices for everyone in the family including Pirates Island Waterpark, Beaches Negril is for you. Click to the Logo to book your vacation now
---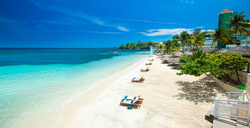 If you're game for "surf & turf," from a huge action-adventure waterpark to championship golf for the whole family, look no further than Beaches Ocho Rios, voted among the Top 10 Best Beach Resorts by Parents magazine. Twenty-two acres of lush tropical gardens, a gorgeous private white-sand beach, 5 gourmet restaurants, 3 fantastic swimming pools, a dedicated scuba practice pool and an entire ocean of water sports are just a few of the places & things to explore.

Plus, only at Beaches Ocho Rios, families can meet Oscar, the resident Grouch from Sesame Street, and participate in the From Trash to Treasure activity and join in at Oscar's Sing-A-Long pre-show... all part of the Beaches Resorts' Caribbean Adventure with Sesame Street®.
There are a dozen different room and suite categories to choose from, all offering the most luxurious amenities and the highest levels of service in the Caribbean. This is not your typical resort - all rooms and suites are much larger than you'd expect, giving your and your family more space and more value. Beaches Ocho Rios takes advantage of its stunning seaside locale to infuse all of its accommodations—from sprawling penthouse suites to deluxe family-friendly rooms—with the flavor of Jamaica. Outside there are meandering gardens that border a white-sand beach.




---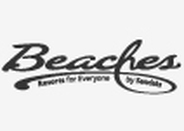 Why Choose this resort? If you're looking for a family beachfront getaway with an intimate private beach, a Pirates Island Waterpark, extra large accommodations, the only all-inclusive golf program for kids and near Jamaica's best attractions, Beaches Ocho Rios is for you. Click the Beaches logo and grab your clubs. Beaches is waiting for you