wITH 7 RESORTS IN JAMAICA...

---
---
Sandals Montego Bay

Welcomed by the cool sea breeze, the moment you walk into the open-air lobby you know that you have arrived at the perfect vacation paradise. Set along Jamaica's longest private white-sand beach, Sandals' Montego Bay hotel offers guests an authentic laid-back Caribbean experience and the lively vibe of the islands. Here, the blues are as far as the eye can see and the fun never ends. With eight world-class restaurants, chic oceanfront pools, tropical gardens, and Bay Roc Villas – with butler service – just steps from the sea,
Sandals Montego Bay is the hottest resort in Jamaica.

---
---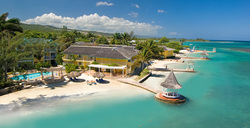 As Jamaica's most alluring retreat, Sandals Royal Caribbean takes you to opposite sides of the world from its regal – British Manorand mannerisms – to the mysterious Orient on a private offshore island minutes from the resort. Set along a pristine ribbon of beach in Montego Bay, this Jamaican resort's elegant British accent begins with a proper arrival through a grand port cochere to a noble Georgian-style Great House surrounded by tropical gardens. This is where the highbrow side of you will enjoy continental breakfast in bed and afternoon tea.
---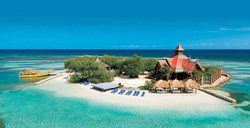 Take a dragon boat to a private offshore island where a thousand exotic temptations await. Inspired by all the mysteries of the Orient, Sandals Island is mere moments from the shores of the main resort. Lounge around the circular pool & bar. Enjoy a massage in a private cabana – your own Red Lane® Spa Escape. Savor authentic Thai cuisine and attend a chic party. It's a day-into-night adventure that's two island getaways in one.
---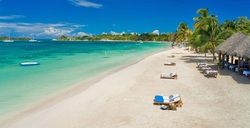 Spanning Negril's famed Seven-Mile Beach, Sandals Negril conjures up tropical vibrations with a casual, understated elegance. Stroll through walkways dotted with swaying palms and sea breezes, while listening to the hypnotic sound of waves. Experience romantic moments created by the most amazing sunsets. Savor world-class cuisine at breathtaking, oceanfront restaurants. Relax and enjoy luxurious accommodations, steps from the Jamaican beach, including some of the most unique suites in the world with butler service where you can swim-up to your private patio. Stay at Sandals Negril and indulge in the Caribbean's ultimate beach resort.
Why Choose This Resort?
If you want to kick back, and surrender to to a Bob Marley vibe at Jamaica's ultimate beach resort, then the chic Sandals Negril is for you.

Voted Green Hotel of The Year and located on the longest stretch of Negril's famous 7-mile beach, this is where you can get your groove on. Unique features include incomparable sunsets and exotic suites such as the swim up suites, loft suites and Millionaire suites.


---
---
Sandals Whitehouse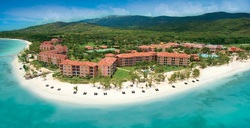 Discover the undiscovered. Journey to a forgotten Jamaica where the natural beauty is simply unforgettable. Within a 500-acre wilderness preserve, blue mountains, lush palm groves, pristine coastlines and shimmering turquoise waters create an unbelievable backdrop for a monumental resort. Sandals Whitehouse Europe Village & Spa perfectly blends the exotic allure of the Caribbean with the refined elegance of Europe.
Charming Italian piazzas and fountains are surrounded by gardens resplendent with fragrant foliage, while three European-inspired villages – Italian, French and Dutch – are home to luxuriously-appointed, all oceanfront rooms and suites. Each one offers magnificent views overlooking the two-mile long beach, and top tier suites come with Sandals' legendary Butler Service. Seven restaurants serve mouthwatering gourmet cuisine from around the world, and entertainment ranges from a sophisticated piano bar to bonfire beach parties and a chic nightclub. This resort is truly a world unto itself, where time is all but forgotten and the only moment is now.

Why Choose This Resort? If you want to experience an award-winning, all-beachfront oasis in the heart of a 500-acre nature preserve on the undiscovered South Coast of Jamaica, stay at Sandals Whitehouse.
Perched along a pristine 2-mile stretch of alabaster beach, this impressive resort features all rooms and suites set directly on the beach. Designed with European influences, its architecture including the Grand Piazza pay homage to the romantic cultures of the Netherlands, France & Italy




---
---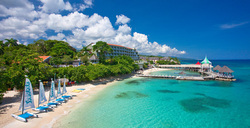 Discover a sprawling paradise where the foliage is so rich and luscious, with a veritable rainbow of flowering trees and plants, that it's easy to escape the cares of the outside world. From a tranquil mountaintop to the white sand beach to the fairways of the championship golf course, this Ocho Rios resort and spa is surrounded by the incredible natural beauty of Jamaica. Spanning a luxuriant stretch of the Jamaican coastline, Sandals Grande Riviera is created to enchant you with two distinctive resort experiences in one. The Seaside & Ochi Beach Club is home to babbling brooks, fragrant gardens and the chicest beach club in Ocho Rios, where cool drinks and even cooler vibe are enjoyed at stylish beach party by day, and the hottest outdoor lounge in the Caribbean at night.
Those seeking something a little more secluded will find just that in the tranquil Riviera Villas & Great House Suites. Set amidst the unforgettable beauty of the St. Ann Mountains, 93 villa pools and luxurious suites create an exclusive hideaway suited to private moments. At the foot of this mountain-side garden enclave is the plantation-style Great House, a bluff-top manor where people come to gather around the vast zero-entry pool, or in a sophisticated piano bar. Regardless of which side of the resort you choose, you'll discover gourmet global cuisine at 15 exquisite restaurants and magnificent gardens. It all serves as a welcome reminder that, wherever you find yourself at this magnificent resort, it truly is the best of Jamaica.


---
---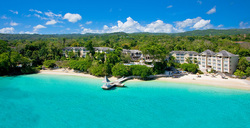 All Butler Suites. All Oceanfront Suites. For the ultimate in exclusivity and indulgent pampering, escape to Sandals Royal Plantation, a Jamaica all-inclusive resort and spa in Ocho Rios. Sandals Royal Plantation is the only all-butler, all-suite boutique resort in the Sandals collection. Nestled within a magnificent coral bluff on Jamaica's lush north coast, this intimate resort of just 74 ocean-view suites is renowned for its impeccable service, unmatched attention to detail and retro-chic sophistication - complete with all the world-class amenities for which Sandals in renowned. Come explore the quieter side of Sandals at the world's only all-inclusive resort to be granted membership in the prestigious Leading Small Hotels of the World®, and the only Leading Spa® in all of Jamaica.
Boasting a charming intimacy in an atmosphere of aesthetic sophistication, this five-decade gem of history was a favorite of Noel Coward and Ian Fleming back in the day.
The range of impressive amenities includes a bluff top freshwater pool with two whirlpools and poolside butler service, beach butler service including dining and cocktails on the west beach; and Sandals' comprehensive scuba diving program with a water sports pavilion on the east beach. Lovers of golf will be treated to complimentary green fees at the nearby 18-hole course at Sandals Golf & Country Club. For your dining pleasures, the award-winning Le Papillion serving French cuisine is one of the resort's three gourmet restaurants, while the chic CBar is the island's only champagne & caviar bar. Exclusive privileges at neighboring Sandals Grande Riviera expand your dining options to 11 more venues. Catering to those who appreciate refined elegance with an authentic island experience, Sandals Royal Plantation is the quiet side of Sandals and the ideal retreat for whenever you need to recharge
---

Why Choose This Resort? If you're looking a relaxing and sophisticated all-suite, all-butler, all ocean view resort that excels in personalized service, Sandals Royal Plantation is for you. As Sandals' only boutique resort, this Jamaica all-inclusive resort and spa in Ocho Rios is set on two private cove beaches and takes you from afternoon tea to an evening of glamour at Jamaica's only champagne and caviar bar. With only 74 Suites, this Resort fills quickly, Click here today to book and insure the dates you want
---

Located in popular Montego Bay, just minutes from Sangster International Airport, this 52-room hideaway may be the smallest Sandals in Jamaica, but it's big on charm. With the quaint intimacy of a bed & breakfast, the resort boasts a staff that is warm and accommodating, happily delivering complimentary room service to all guests 24 hours a day. The penthouse-level rooms additionally enjoy butler service for the ultimate in personalized attention. The Carlyle's easy-going hospitality encourages a social atmosphere when you're in the mood – revolving around the courtyard pool – as well as a peaceful sense of tranquility whenever you prefer it, even on the beach.
Two bars provide unlimited premium drinks including the circular Sunset Bar, which surrounds you in tropical gardens. This petite paradise with all its lovely landscaping was the very first resort named Small Green Hotel of the Year by the Caribbean Hotel Association. Three superb restaurants offer a variety to suit your discerning tastes while full exchange privileges at nearby Sandals multiply your dining and sporting options. Taking a stroll is a real adventure as the local shops and renowned bars and nightclubs of Montego Bay are a short walk away. Like everyone who stays here, Sandals Carlyle is sure to find a big place in your heart


---

If you're looking for an intimate beachside Inn experience, one that gives you the feeling of a traditional bed & breakfast with room service, Sandals Carlyle is for you. Read Less Here, everyone knows your name and the attentive staff is famously friendly, all within walking distance of a "happening" downtown. Best of all, you can Stay at One and Play and Dine at two other Sandals Resorts nearby. Click here to book now